The Hanseatic City of Lübeck is situated on the Baltic Coast in Germany. Lübeck was founded in the 12th century. The Old City of Lübeck is situated on an island, surrounded by the River Trave. Lübeck was the capital city of the Hanseatic League and between 1230 and 1535 an important northern European trading centre and was extremely rich and influential in Northern Europe. Lübeck is known for its brick Gothic architecture. The Hanseatic City of Lübeck was home to wealthy merchants and artisans. Many Gothic brick houses and churches were built during the height of the Hanseatic League. The Gothic brick Church of St. Mary served as a model for the brick Gothic style of churches in the Baltic Region. The Church of St. Mary is the third-largest church in Germany, after the Ulm Minster and Cologne Cathedral. During World War II, Lübeck was severely damaged, an air raid and a firestorm partly destroyed the three main churches, merchant houses and several other buidings. Despite this damage, the wealth of the Hanseatic City of Lübeck can still be seen in the brick Gothic buildings all over the city. One of the best known brick Gothic buildings in Lübeck is the Holsten Gate. Other important buildings are the brick Gothic churches and the Lübeck Town Hall. The Hanseatic City of Lübeck was declared an UNESCO World Heritage in 1987.
www.werelderfgoedfotos.nl © Copyright World Heritage Photos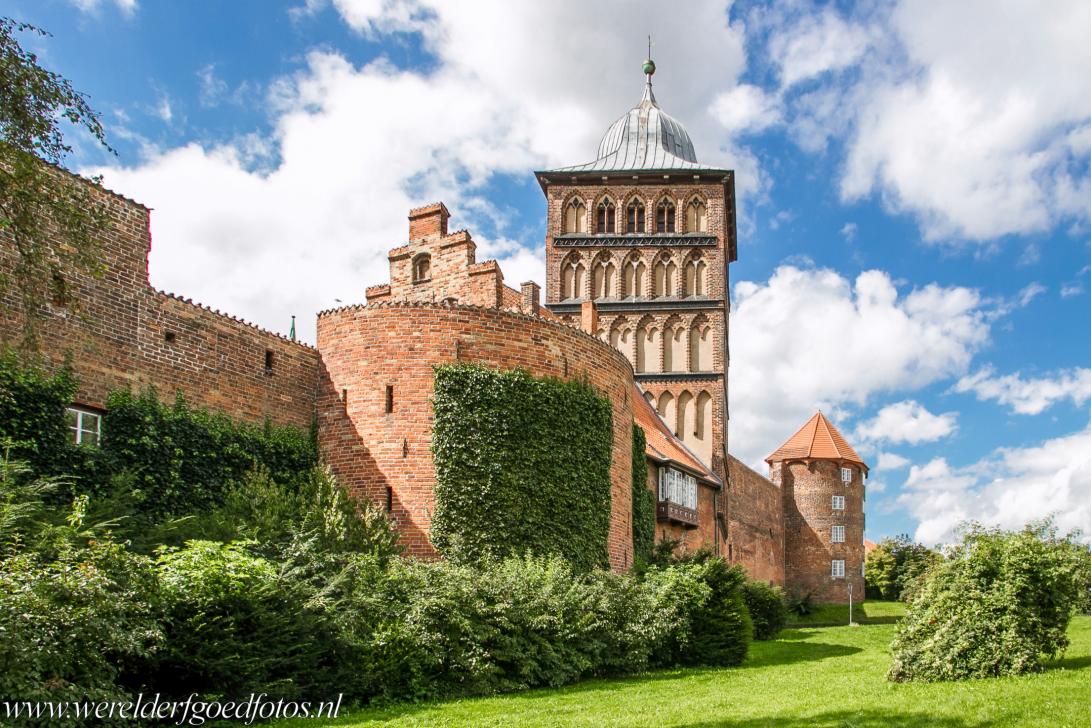 Hanseatic City of Lübeck: The Burgtor, the Castle Gate, is one of the remaining city gates. The Late Gothic brick Burgtor was built in 1444. During the Middle Ages, the tower was decorated with red and black brick stones. The bronze roof was added in the Baroque style in 1685. The Hanseatic City of Lübeck was inscribed on the UNESCO World Heritage List in 1987.