Speicherstadt and Kontorhaus District with Chilehaus in Hamburg: Speicherstadt is the largest warehouse district in the world and is located in the Hanseatic City of Hamburg. Hamburg is located in northern Germany on the banks of the Elbe. The deep river Elbe allows large ocean ships to reach the inland Port of Hamburg. Hamburg is situated 110 km from Cuxhaven where the Elbe flows into the North Sea. The river is almost 3 km wide when it passes Hamburg. The Port of Hamburg is the third largest port in Europe, after the Port of Rotterdam and Antwerp. Speicherstadt was built on small islands in the Elbe River. Speicherstadt was built as a free zone to transfer goods without paying customs. Speicherstadt was built in the period 1885-1927. The buildings of Speicherstadt stands on timber-pile foundations. The warehouses are multi-storey buildings, built of red brick, a common style in Northern Europe, and decorated with small towers, alcoves and glazed terracotta ornaments. The warehouses are reachable from land and water. The warehouse district is a network of roads, canals and bridges. The Allied bombing of Hamburg during the Second World War destroyed 50% of Speicherstadt. It was partly rebuilt from 1949 to 1967. The companies in Speicherstadt stored and handled products such as cocoa, coffee, tea, tobacco and spices. Today, some of the warehouses are museums, the International Maritime Museum of Hamburg is housed in Kaispeicher B, the oldest preserved warehouse in Speicherstadt. The Kontorhäuser, the administration buildings, of the merchants were built right next to Speicherstadt. The most famous of the Kontorhaus District is the Chile House. The Chile House is a fine example of the Modernist architecture of the 1920s. The Kontor house district bear witness to the prosperity of the former trading dynasties in Hamburg. Speicherstadt and Kontorhaus District with Chilehaus were declared a UNESCO World Heritage in 2015.
www.werelderfgoedfotos.nl © Copyright World Heritage Photos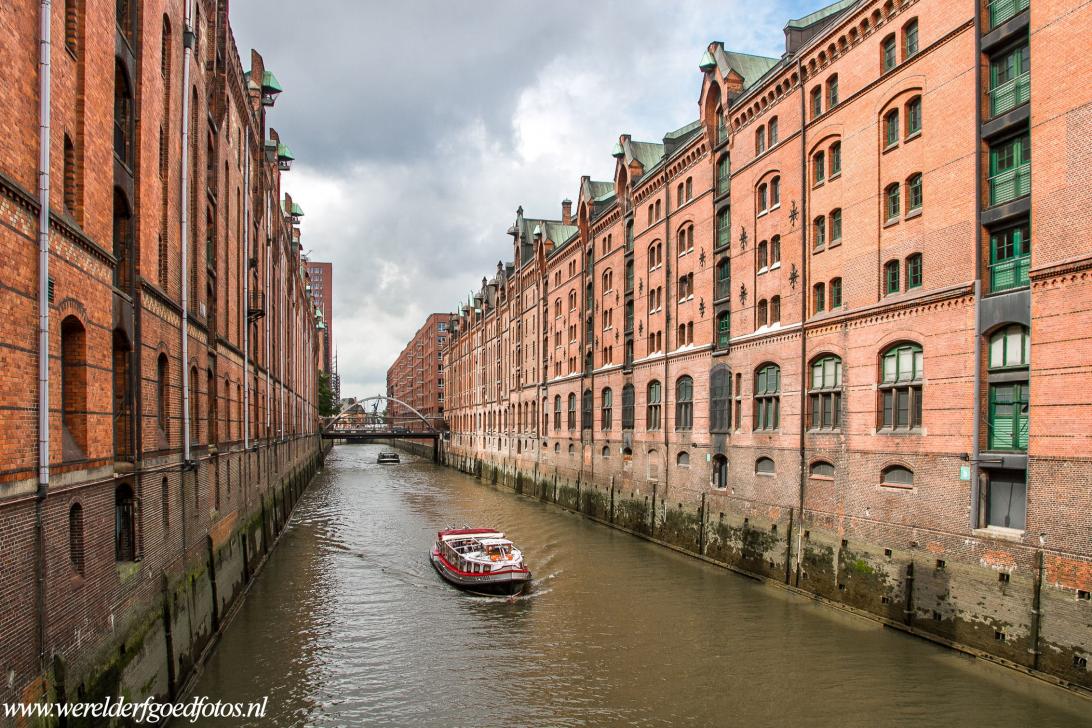 Speicherstadt and Kontorhaus District with Chilehaus in Hamburg: The red brick warehouses of Speicherstadt, the largest warehouse complex in the world. It is situated in the Hanseatic City of Hamburg. Speicherstadt was built from 1883 to 1927. Speicherstadt and the Kontorhaus District with Chilehaus were inscribed on the UNESCO World Heritage List in 2015.