Melle is a small town in France, located on the Way of St James to Santiago de Compostela. Melle is home to three Romanesque churches, the most important of them is the Saint Hilaire Church. The church was built in the late 11th and the early 12th centuries. The Saint Hilaire is a hall church. In hall churches, the nave and side aisles are nearly of equal height and width, the immense roof is supported by tall columns. The construction of Hall churches originated in the Late Romanesque period but it reach its height in the Gothic period. The Saint Hilaire Church is renowned for its huge number of magnificent Romanesque sculptures on the outside and the inside walls, one of the most celebrated sculptures is the statue of a enigmatic horseman above the north entrance door. The unique Romanesque church survived the Hundred Years' War and the Wars of Religion almost intact. Melle is located about 200 km north of Bordeaux. The Saint Hilaire Church is classified as a French Monument Historique, a historic monument. The Saint Hilaire Church in Melle was inscribed on the UNESCO World Heritage List in 1998 as a part of the World Heritage Site Routes of Santiago de Compostela in France.
www.werelderfgoedfotos.nl © Copyright World Heritage Photos classic car road trip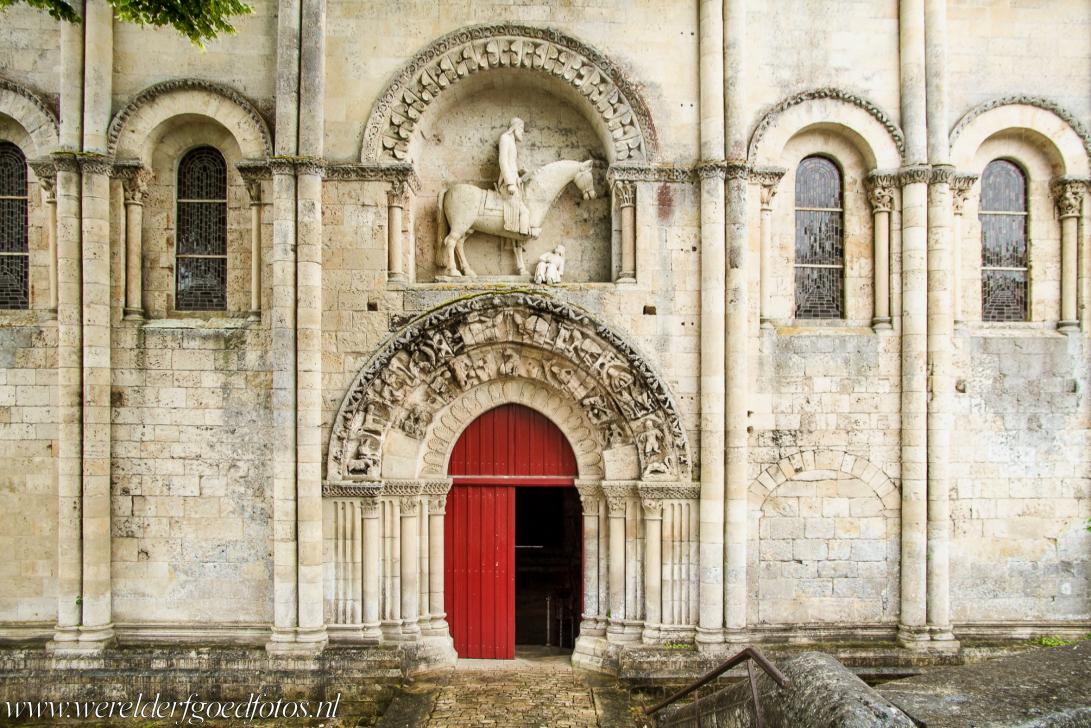 Saint Hilaire Church in Melle: The statue of the horseman is the subject of intense discussions among art historians, the horseman has been identified as Charlemagne, but also as Emperor Constantine I, the first Roman emperor to confess Christianity, triumphing over paganism and also as Jesus Christ violating the Old Testament Law.