Vézelay, Church and Hill: Vézelay Abbey is located in the northern part of Burgundy in France. Vézelay Abbey is a masterpiece of Romanesque art and architecture. The church of the abbey, the Basilica Saint of Mary Magdalene, in Vézelay was an important medieval site of pilgrimage, the Carolingian crypte of the Church of Vézelay holds a relic of Mary Magdalene. Due to the pilgrimages, the town of Vézelay was rising up around the abbey. Vézelay Abbey is famous for its remarkable Romanesque sculptures that adorn the tympanums and capitals. The nave was constructed between 1120 and 1132 and is one of the oldest parts of the church, the vault has grey-white striped arches. The church is filled with more light than most Romanesque churches. Bernard of Clairvaux preached the Second Crusade at Vézelay in 1146. In 1189, Vézelay Abbey was the starting point for the Third Crusade. Vézelay Abbey, the Basilica St. of Mary Magdalene, in Vézelay is the starting point of the Via Lemovicensis, one of the four traditional French routes of the Way of St. James, the pilgrimage route to Santiago de Compostela. Vézelay has been recognized by 'Les Plus Beaux Villages de France' as one of the most beautiful villages of France. Vézelay is located some 48 km southwest of the UNESCO World Heritage Abbey of Fontenay in Montbard. Vézelay, Church and Hill, was declared a UNESCO World Heritage in 1979.
www.werelderfgoedfotos.nl © Copyright World Heritage Photos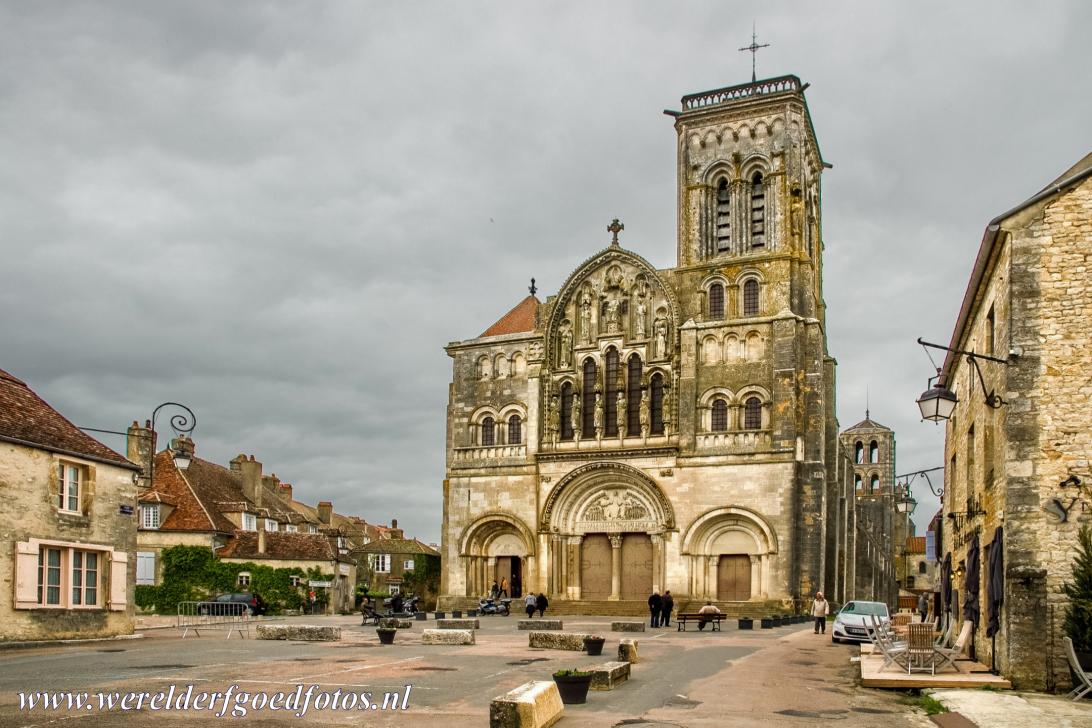 Vézelay, the Church and Hill: The Abbey Church of Vézelay is officially called the Basilique Sainte-Marie-Madeleine, the Basilica of Saint Mary Magdalene. The narthex has three sculpted portals, the 11th century nave was designed in order to bathe in light during the summer and the winter solstice. The magnificent church is the largest Romanesque church in France.