Stevns Klint is a coastal area in Denmark, located about 70 km south of Copenhagen. Stevns Klint is a white chalk cliff of 15 km in lenght and is a place of extreme geological and scientific value. Stevns Klint bears witness to the impacht of the Chicxulub meteorite who struck the Earth about 66 millions years ago. Researchers are convinced, that this meteorite impact has caused the largest mass extinction in the history of Earth, 50 % of all life on earth disapeared, including the dinosuars. The evidence of this dramatic period in the history of the Earth is hidden in the limestone cliffs and the thin layer of fish clay, the greyish layer is only 5-10 cm thick. Stevns Klint is the best place in the world to study this this clay. In the area around Stevns Klint are found the traces of the ash cloud, created by the impact of the meteorite. The exact impact location of the meteorite was the ocean floor off the coast of the Mexican Yucatán peninsula. Stevns Klint contains an exceptional quantity of fossils, the fossils also show the full recovery of the fauna after the mass extinction. Stevnsfortet is a Cold War fortress constructed in 1952-1954, a large underground labyrinth of tunnels, dug deep into the cliffs of Stevns Klint. Nowadays, it is the Cold War Museum. Some other World Heritage Sites located close to Stevns Klint: the hunting landscape Jægersborg Dyrehave about 79 km to the north; Roskilde Cathedral about 48 km to the northwest; Kronborg Castle about 105 km to the north. Stevns Klint gained status the as a UNESCO World Heritage in 2014. It is a natural World Heritage Site.
www.werelderfgoedfotos.nl © Copyright World Heritage Photos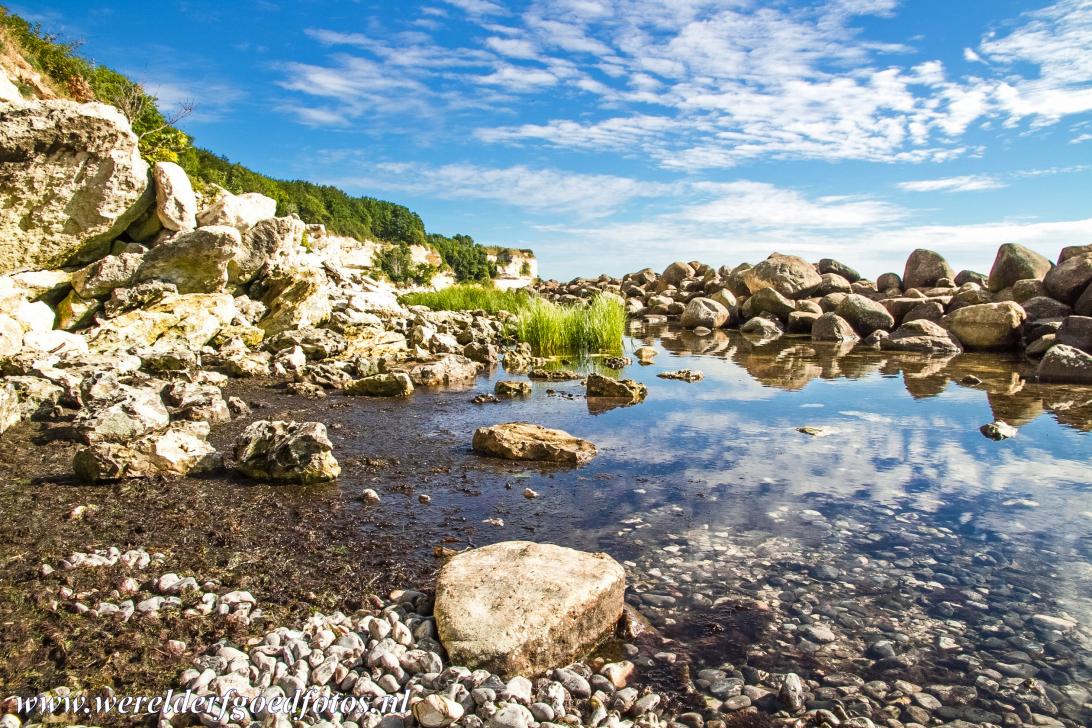 A pebbled beach next to the white cliffs of Stevns Klint. Stevns Klint is situated on the Island of Zealand in Denmark. A thin layer of greyish fish clay is hidden between the thick layers of white chalk and yellow limestone in Stevns Klint. The layer of greyish fish clay is the silent witness to the extinction of the dinosaurs about 66 millions years ago when the huge Chicxulub meteorite hit the Earth. Stevns Klint gained the status the as a UNESCO World Heritage in 2014.