Chartres Cathedral is a Gothic cathedral in the medieval town of Chartres in France. Along with the cathedrals of Reims and Amiens, Chartres Cathedral belongs to the three High Gothic or Classical French cathedrals built in the 13th century. Chartres Cathedral is home to the Sancta Camisa, the relic was donated to the cathedral by Charlemagne in 876. The cathedral was built following a fire that destroyed a previous church in 1194, only the western facade and the crypt survived, also the most precious relic survived: the Sancta Camisia, the tunic of the Virgin Mary. This was considered as a sign from the Virgin Mary herself that another, even more magnificent, cathedral should be built in Chartres. The rebuilding started almost immediately in 1194. The cathedral was consecrated in 1260. The cathedral is renowned for its stained glass windows. The deep intense blue color, known as 'Chartres Blue', is immortalized in the imposing stained glass windows. One of the outstanding features of the cathedral is the Chartres Labyrinth, inlaid in the nave floor. A labyrinth is a feature of most medieval cathedrals, the 13th century Chartres Labyrinth is the largest medieval labyrinth in the world. Along with Mont Saint-Michel, Chartres Cathedral became one of the most important destinations of medieval Christian pilgrimage in France, both situated on the Way of St. James. Even today, the cathedral is a major stop for many pilgrims on the pilgrimage route to Santiago de Compostela in Spain. The cathedral is situated in the historic centre of Chartres, about 80 km southwest of Paris. Chartres Cathedral gained the status as a UNESCO World Heritage in 1979.
www.werelderfgoedfotos.nl © Copyright World Heritage Photos classic car road trip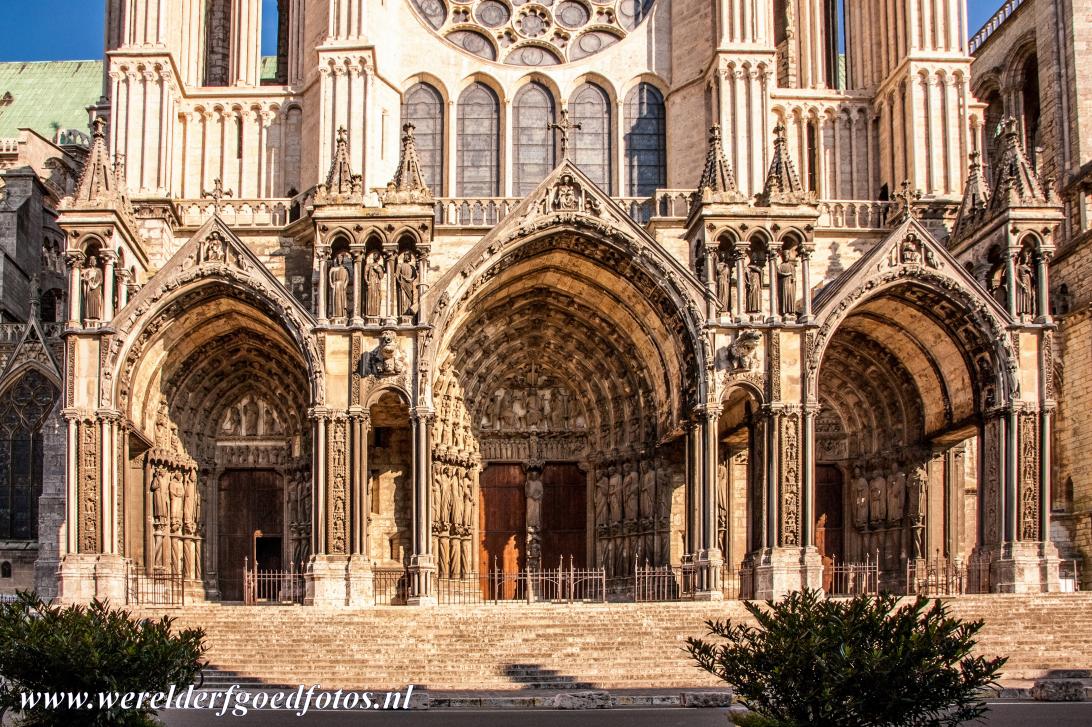 Chartres Cathedral: The south portal was built in te period 1224-1250 and shows scenes of the New Testament. The 13th century north portal shows scenes from the Old Testament. The west portal is the oldest part of Chartres Cathedral and dates from 1150, the portal was spared in the fire of 1194. The west portal, known as the Royal Portal, shows scenes from 'Christ in Majesty'.