Amiens Cathedral: The Cathédrale de Notre-Dame d'Amiens is the largest Gothic church and the largest cathedral in France, it is also one of the largest cathedrals in Europe. Along with the cathedrals of Reims and Chartres, Amiens Cathedral belongs to the three High Gothic or Classical French cathedrals built in the 13th century. The current Amiens Cathedral was built in the period 1220 and 1402. The plan of Amiens Cathedral resembles that of the other High Gothic cathedrals at Reims and Chartres, as well as the Notre-Dame in Paris. The purpose of building the cathedral was to house the preserved skull of John the Baptist, the relic was discovered during the Fourth Crusade by a French crusader and brought to Amiens, the relic became the object of great pilgimage and Amiens Cathedral became one of the most important pilgrimage destinations in Europe. The labyrinth of Amiens Cathedral is the second largest in France, the labyrinth was inlaid in the centre of the nave in 1288. Labyrinths like this were common in medieval churches. The choir of the cathedral is surrounded by numerous chapels, one of them is dedicated to Thomas Becket, also known as Thomas of Canterbury. During WWI and WWII, Amiens Cathedral escaped serious damage, but most of the stained-glass windows were destroyed by fire. The cathedral is situated along the Route of Santiago de Compostela. Amiens Cathedral is situated in the heart of Picardy, in the Somme River Valley, about 152 km north of Paris. Amiens Cathedral was declared an UNESCO World Heritage in 1982.
www.werelderfgoedfotos.nl © Copyright World Heritage Photos classic car road trip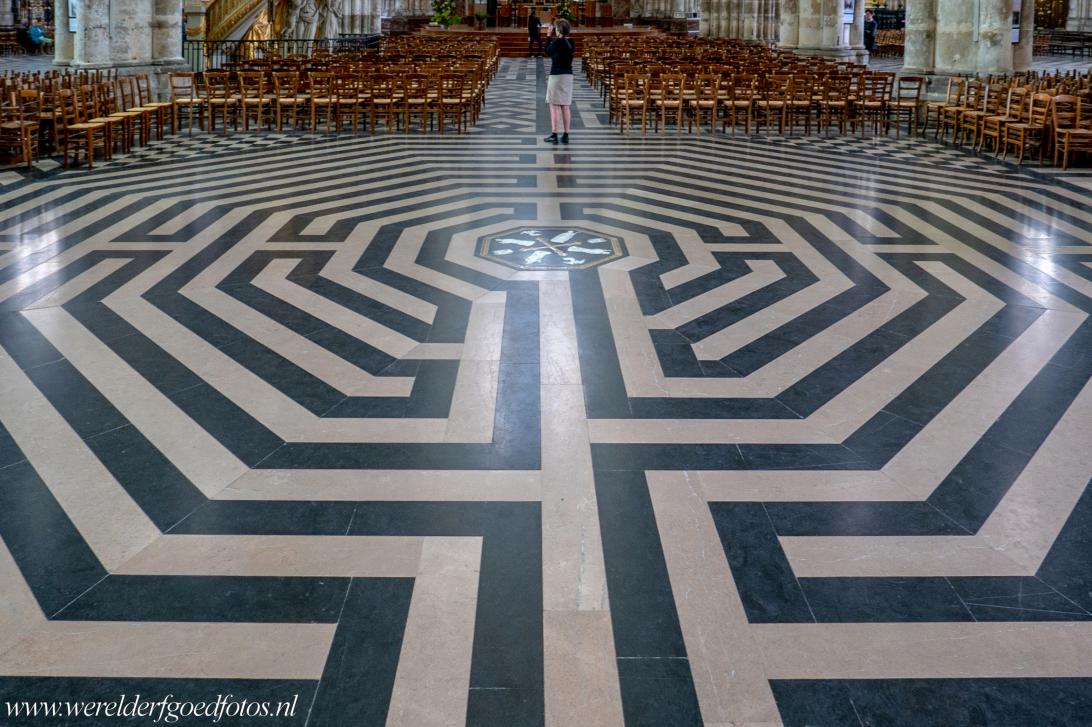 Amiens Cathedral: The labyrinth of Amiens Cathedral was inlaid in black and white marble in the nave floor in 1288. Labyrinths such as this were common in medieval cathedrals and churches. Pilgrims follow the path of the labyrinth on foot or on their knees while meditating, they hope to find relief and trying to reach a deeper connection to God, or also to symbolize the pilgrimage to Jerusalem and the Holy Land.