City of Bath: Bath is the largest city in Somerset, a county in England. The city is known for its Roman baths. During the Roman occupation of Britannia, the modern city of Bath was kwown as Aquae Sulis. Aquae Sulis was a small town in the Roman province of Britannia. Bath was founded by the Romans as a thermal spa in 70 AD, they were attracted by the large natural hot springs in the area. The Romans built a reservoir around the hot springs, a series of elegant and stylish baths and a temple, dedicated to the goddess Sulis Minerva. Aquae Sulis developed into a popular centre of health and worship. After the Romans left Britain in the beginning of the 4th century, Aquae Sulis fell into disrepair, although the hot springs were still used by local people. The baths were restaurated in 1088. In the Middle Ages, Bath became an important centre of the wool industry. Under the rule of King George III, Bath grew into a sophisticated town with neoclassical Palladian buildings. The city of Bath is situated in the valley of the river Avon, about 194 km west of London and 18 km southeast of Bristol. The city of Bath gained the status as a UNESCO World Heritage in 1987.
www.werelderfgoedfotos.nl © Copyright World Heritage Photos classic car road trip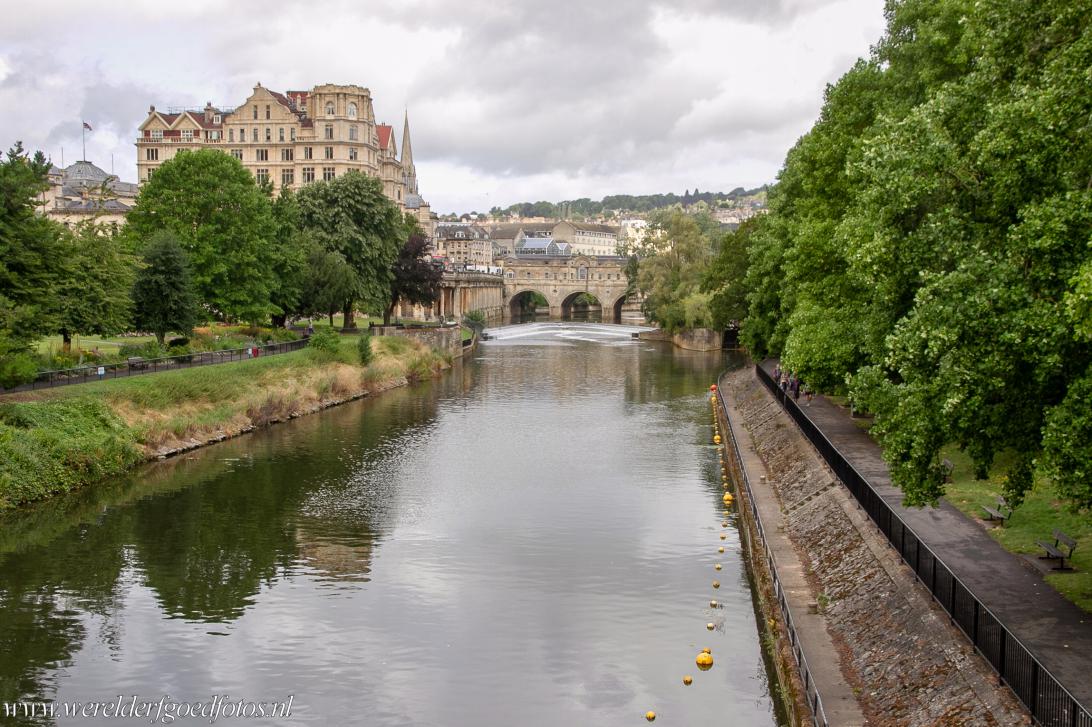 City of Bath: The Pulteney Bridge over the river Avon and the Pulteney Weir. The Pulteney Bridge was constructed in the 1770s. The bridge is one of the only four bridges in the world with shops accross the full span on both sides. The city of Bath was added to the UNESCO World Heritage List in 1987.