Historic Centre of Florence: Florence is the symbol of the Ranaissance. Florence is located about 50 km from San Gimignano and 70 km from Siena. Siena was the major rival of Florence in the 13th century. The Medici family ruled Florence from 1434 to 1737. Then Florence was under the rule of Austria until it became part of Italy in 1861. Florence was one of the most important cities in Europe in the 14th to the 16th centuries, the Renaissance period. Artistic masterpieces can be found in the historic centre of Florence, the birthplace of the Renaissance. Some of the most outstanding monuments in the historic centre of Florence: The 13th century Cathedral of Florence Santa Maria del Fiore, Florence Cathedral. The dome of the cathedral was designed by Filippo Brunelleschi, at that time the largest dome in the world. The freestanding bell tower of the cathedral was designed by Giotto. The Basilica Santa Croce is the burial place of some of the most famous Italians. A tomb was built for Dante in the Santa Croce, but the tomb is empty. Dante was exiled from Florence and moved to Ravenna, after his death in 1321, he is buried in Ravenna. The Uffizi Gallery is one of the oldest and famous museums of art in the Western World, it houses priceless works of art, among them masterpieces of Michelangelo, Caravaggio, Botticelli, Donatello, Giotto. Dante was born in Florence, his birth house still exists. Michelangelo lived in Florence, Casa Buonarroti houses some early works of Michelangelo. The Ponte Vecchio is one of the icons of Florence and one of the most famous bridges in the world. The Historic Centre of Florence gained the status as a UNESCO World Heritage in 1982.
www.werelderfgoedfotos.nl © Copyright World Heritage Photos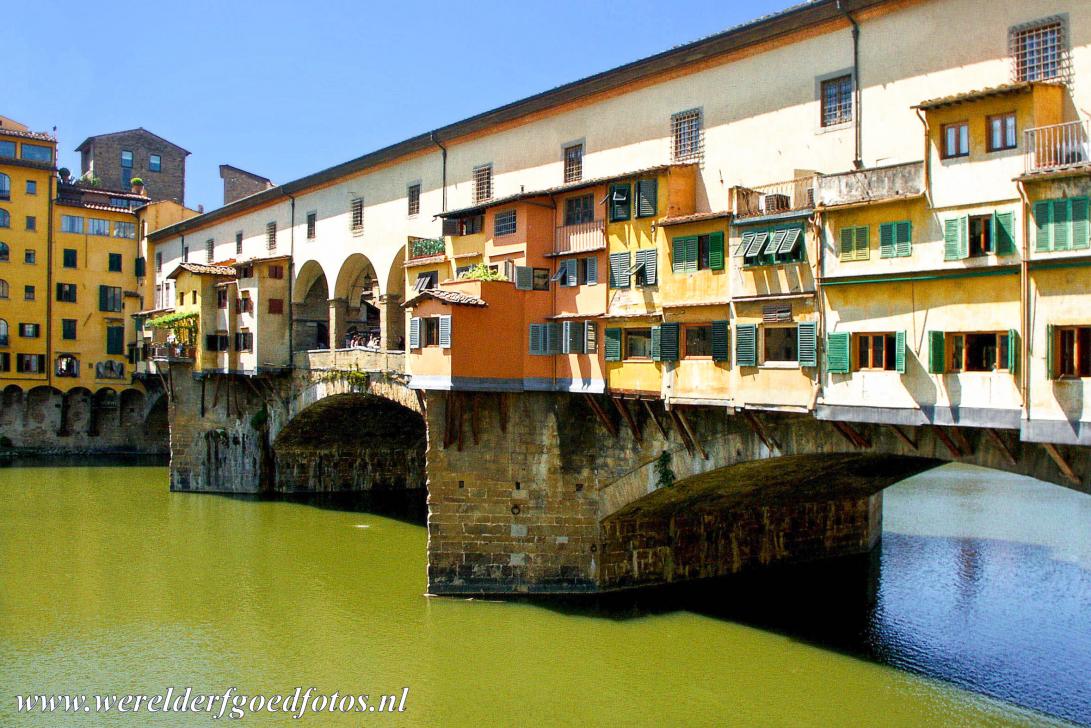 The Ponte Vecchio is the oldest and most famous bridge in Florence. The bridge spans the river Arno. The Ponte Vecchio is lined on both sides with shops of jewellers and goldsmiths. In 1565, Giorgio Vasari built the Vasari Corridor, a secret passageway that joins the Uffizi Gallery to the Pitti Palace, the corridor passes the Ponte Vecchio on the top of the shops. The Historic Centre of Florence was inscribed on the UNESCO World Heritage List in 1982.