Bourges Cathedral: The Cathedral of St. Étienne of Bourges is located in Bourges, a city just outside the Loire Valley, was a Romanesque cathedral built in the 11th century. A century later, the cathedral was rebuilt in the Gothic style. Bourges Cathedral is the broadest of the Gothic cathedrals in France. The main phase of construction of the Gothic Bourges Cathedral is roughly in the same period as Chartres Cathedral. Bourges Cathedral has no transepts, which forms the cross-shape of most churches, the cathedral has five naves. Each of the naves has its own sculpted portal on the west façade. The Notre-Dame in Paris also has five naves, but only three portals on the façade. The north tower of Bourges Cathedral crashed down in 1506, it was rebuilt in 1542, it is known as the Tour de Beurre (Butter Tower). The south tower of Bourges Cathedral had structural problems, it has never been able to carry bells, it is a so called 'deaf tower'. The cathedral was built on the site of a place of worship since the 3th century, the cathedral is located along the Route of Santiago de Compostela. Bourges Cathedral gained the status as an UNESCO World Heritage in 1992.
www.werelderfgoedfotos.nl © Copyright World Heritage Photos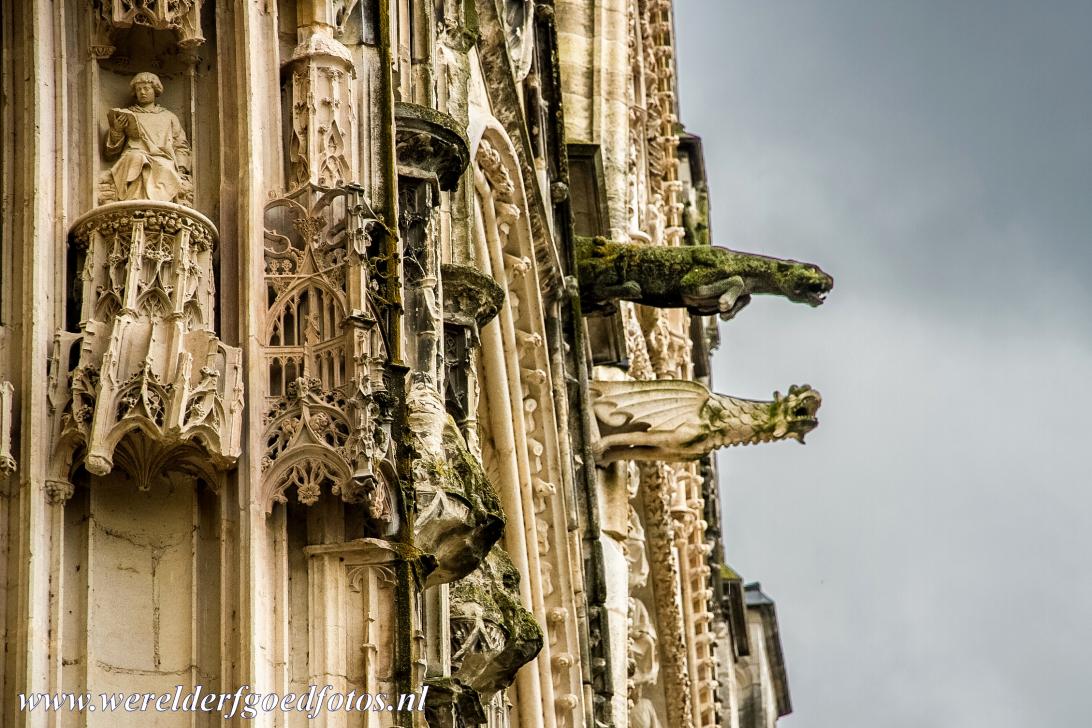 Bourges Cathedral: Some of the most beautiful gargoyles of the cathedral. The gargoyles were intended to protect the cathedral from evil spirits. The cathedral is dedicated to Saint Stephen. The cathedral is notable for its harmonious design, the quality of the sculptures and above all the stained glass windows. Bourges Cathedral was declared an UNESCO World Heritage in 1992.