Litomyšl Castle is one of the best examples of Renaissance architecture in the Czech Republic. In the period 1568-1581 a Medieval castle was rebuilt into a Renaissance arcade-castle. The Renaissance Castle of Litomyšl is a type of building that first was developped in Italy and later adopted and developed in Central Europe during the 16th century. The arcades of Litomyšl Castle are one of the most typical features of the Renaissance style. The sgraffiti decoration of Litomyšl Castle is also typical for the Renaissance style. There also is a Renaissance chapel in the castle. Despite of later reconstructions at the end of the 18th century, the appearance of Litomyšl Castle remained almost intact. The rooms of Litomyšl Castle have Baroque and neo-Classical plasterworks, wall and ceiling paintings. In the court and in the park of Litomyšl Castle are preserved the ancillary buildings, like the stables, a garden pavillion and brewery, in this brewery the composer Bedřich Smetana was born in 1824. One of the highlights of Litomyšl Castle is a neoclassical theater. There are only five theaters of this kind in the world, one in Litomyšl Castle, one in Český Krumlov, one in Russia and two in Sweden. Litomyšl Castle gained the status as an UNESCO World Heritage in 1999.
www.werelderfgoedfotos.nl © Copyright World Heritage Photos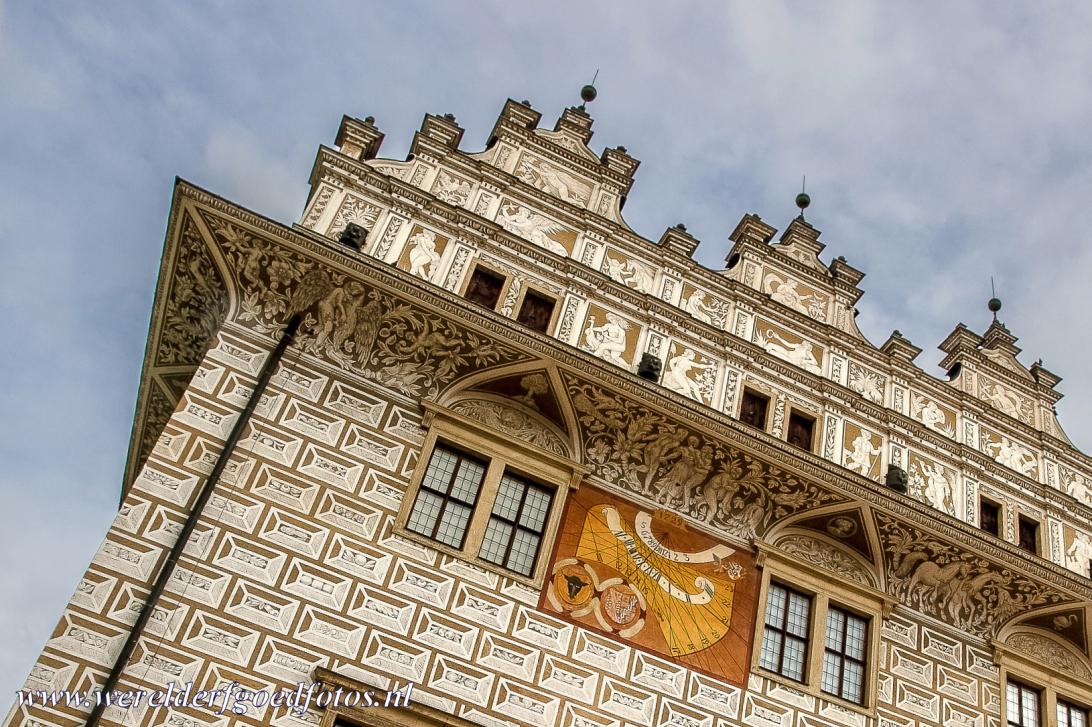 Litomyšl Castle: A Renaissance sgraffito decoration of a sundial on the south wall. The façades and walls of Litomyšl Castle are adorned with Renaissance sgraffito. In the sgraffito technique, the plasterers at first put a layer of plaster on the wall, another layer of contrasting plaster is put on top of the first layer, then artists engrave decorations in the top layer. Litomyšl Castle gained status as an UNESCO World Heritage in 1999.