Rock Carvings in Tanum: The rock carvings are located around Tanumshede in Sweden. The Rock Carvings in Tanum show the social life of the people from the Bronze Age, their beliefs, rites and spiritual life. Most of the Rock Carvings in Tanum can be dated to 1000-500 BC. The Vitlycke rock is unique in containing imagery relating to love, magic and power. The rock is covered with more than 400 figures, but the depiction of women is scare. The great rock at Aspeberget shows us mighty bulls, warriors, sun symbols and a lot of ships. The Litsleby Spear God is 2.30 m high and Europe's largest Bronze Age human representation. The Fussum rock indicates that the rock art was made by a single artist. The Rock Art Sites of Tanum are: Vitlycke, Aspeberget, Litsleby, Fossum, Gerum and Kalleby. Most of the carvings have been filled-in with red paint. This has been done by the people of the Vitlycke Museum to make the Rock Carvings in Tanum easier to see. If the Rock Carvings in Tanum were also painted-in during the Bronze Age is not known. Two burial cairns are located near the Vitlycke rock. The burial cairns of Tanum were built by people of the Bronze Age. The Rock Carvings in Tanum gained the status as an UNESCO World Heritage in 1994. Some other important Rock Art sites elsewhere in Europe: Alta, Val Camonica, Siega Verde and Côa Valley. World Heritage Art: Vitlycke
www.werelderfgoedfotos.nl © Copyright World Heritage Photos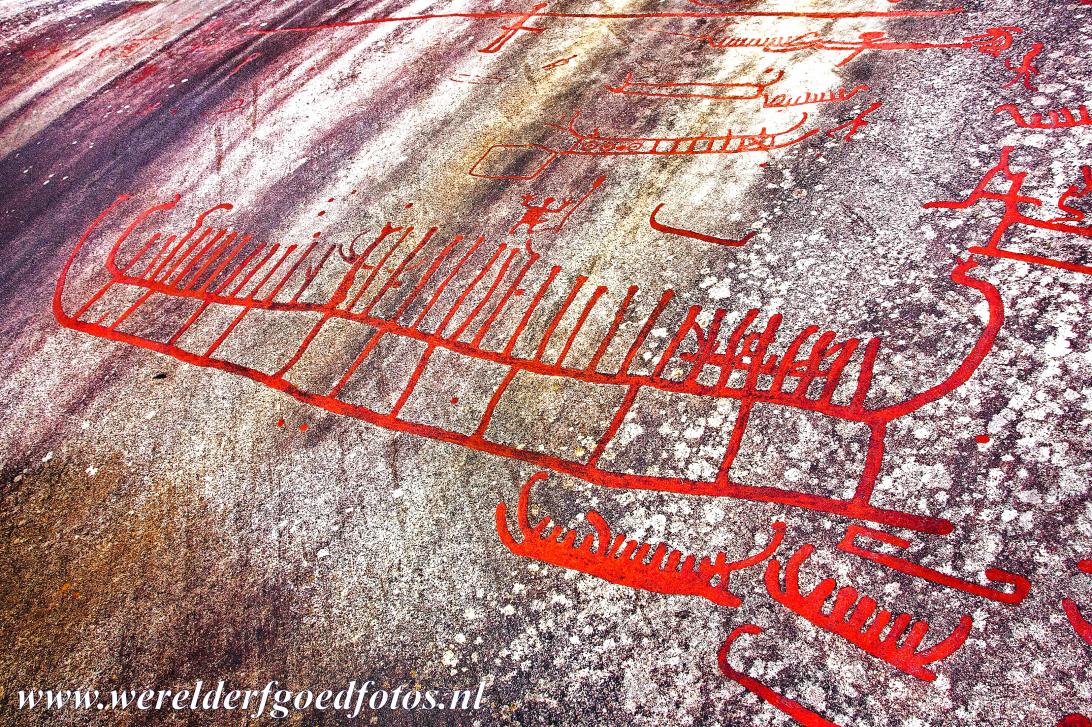 Rock Carvings in Tanum: The Vitlycke rock is unique in containing imagery relating to love,
magic and power. Most of the figures on the Vitlycke rock can be dated to the Late Bronze
Age, 1000-500 BC. The last carved images are from the beginning of the Iron Age, 500 BC.
The Rock Carvings in Tanum gained status as an UNESCO World Heritage in 1994.