The Museumsinsel (Museum Island) is an unique ensemble of museums in Berlin, the capital of Germany. The Museumsinsel is situated near the centre of Berlin. The island is surrounded by the Spree River. The museums on the Museumsinsel were built between 1824 and 1930. The museums were built to compete with cities like Florence, Paris and London. The Museumsinsel in Berlin illustrates the result of modern museum design in the 19th and 20th centuries. Together the five museums on the Museumsinsel houses items of art and artefacts from more than 6,000 years old. The Altes Museum houses a collection of Classical Antiquities. The most important artefact of the Neues Museum is the bust of the Egyptian Queen Nefertiti. The Alte Nationalgalerie houses work from French Impressionists. The Bode Museum houses Byzantine and Renaissance Art, such as work from Ravenna. The Pergamon Museum houses a collection of artefacts, like the Pergamon Altar, the Ishtar Gate of babylon, the Aleppo Room, the Market Gate of Miletus and the Mshatta Facade. Nearly 70 % of the museums were destroyed during WWII. The reconstruction and renovation of the five museums took years and has given back the Museumsinsel its greatness. The Berliner Dom (Berlin Cathedral) is the only building on the Museumsinsel in Berlin, which is not a museum. The Berlin Dom was built in 1895-1905. The Berliner Dom was severely damaged during WWII, after restoration the Dom was reopened in 1992. Besides the Museumsinsel, there are another two UNESCO World Heritage Sites in Berlin: Berlin Modernism Housing Estates and Palaces and Parks of Potsdam and Berlin. Museumsinsel (Museum Island), Berlin gained status as an UNESCO World Heritage in 1999. World Heritage Art: Nefertiti
www.werelderfgoedfotos.nl © Copyright World Heritage Photos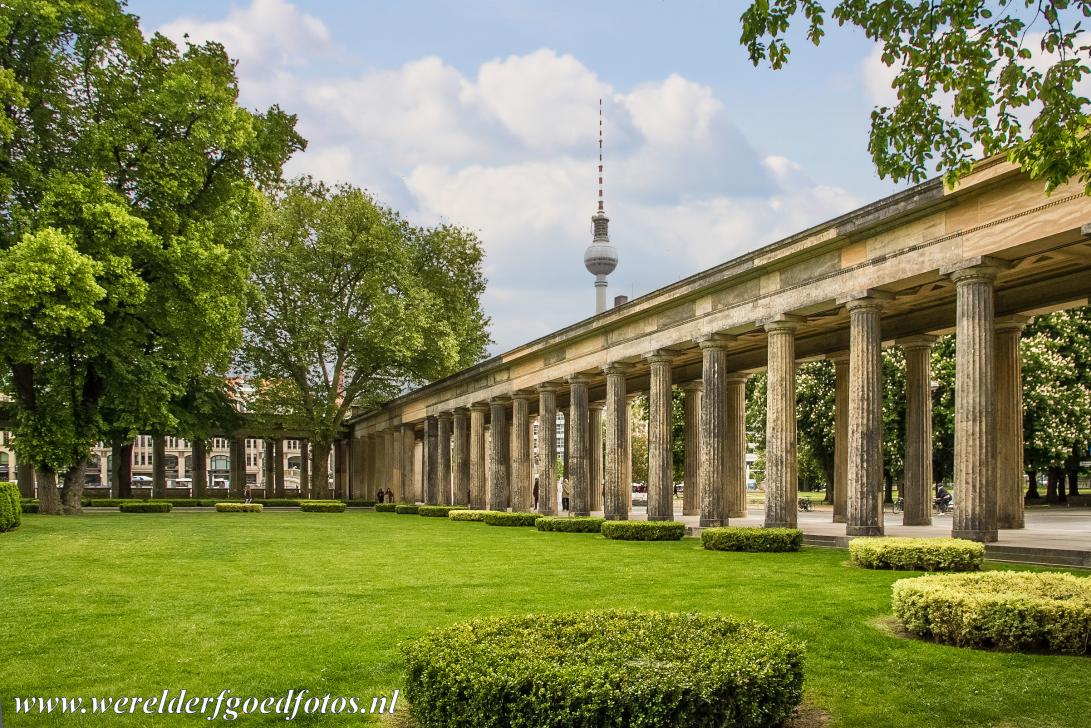 Museumsinsel (Museum Island): The Colonnade Courtyard near the Alte Nationalgalerie,
in the background the TV tower, the Berliner Fernsehturm.The Museum Island is situated
near the centre of Berlin, the island is surrounded by the river Spree. The five museums
on the Museum Island illustrates the result of modern museum design in the 19th and
20th centuries. The Museumsinsel (Museum Island), Berlin is an UNESCO World Heritage.