Vilnius Historic Centre: Vilnius is the capital city of Lithuania. The Gediminas' Tower is the only remaining part of the Upper Castle of Vilnius. Vilnius always was a multi-religious city, there are several churches of 9 different faiths. The Cathedral of Vilnius dates from around 1419 and has eleven chapels. The Chapel of St. Casimir is the most important and most beautiful chapel of the Cathedral of Vilnius, the chapel was built in 1636 to house the remains of St. Casimir, the patron saint of Lithuania. The 57 metres high freestanding bell tower of Vilnius Cathedral was once part of one of the gates in the defensive wall of Vilnius. The Aušros Vartai (Gates of Dawn) is the only remaining city gate of Vilnius, the Aušros Vartai houses a tiny chapel with the icon of the Blessed Virgin Mary Mother of Mercy, one of the most sacred icons in Europe. The Vilnius University was founded in 1571. Inside, the walls and vaulted ceilings of the Vilnius University are decorated with colourful wall paintings. The former KGB headquarters and KGB prison, a symbol of Soviet occupation, is situated just outside Vilnius Historic Centre. Nowadays, it houses the Museum of Genocide Victims. The Baltic Way was a human chain linking the three Baltic States in their drive for freedom, it was a 600 km long chain from Tallinn to Vilnius, crossing Riga, the Baltic Way was inscribed on the UNESCO Memory of the World Register. Vilnius Historic Centre gained the status as a UNESCO World Heritage in 1994.
www.werelderfgoedfotos.nl © Copyright World Heritage Photos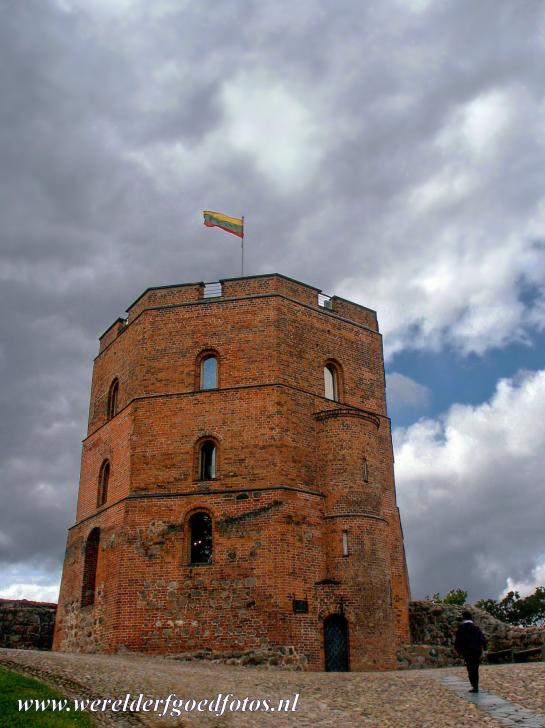 Vilnius Historic Centre: The Gediminas' Tower is the only remaining part of the Upper Castle of Vilnius. The Upper Castle was completed in 1409. The Gediminas' Tower was restored in 1930, the top of the tower offers beautiful views of Vilnius, the town is situated at the confluence of the Vilnia and Neris rivers. The Gediminas' Tower is an important historic symbol of the city of Vilnius and Lithuania. Vilnius Historic Centre was declared a UNESCO World Heritage in 1994.