The Dorset and East Devon Coast is also called the Jurassic Coast. The Jurassic Coast stretches 155 km along the southwestern coast of England, from Orcombe Point in East Devon to Old Harry Rocks in Dorset. The landscape of the Jurassic Coast provides insight into the natural processes that have shaped the Earth and how life has evolved during evolution. The Jurassic Coast spans 185 million years of the geological history of the Earth, the rocks along the coast preserve the fossils of the creaturs such as marine reptiles and dinosaurs that once lived here. Today, fossils still can be found. The Jurassic Coast is an important fossil site in Europe, two other important fossil sites in Europe are: the Messel Pit and the Monte San Giorgio. The Jurassic Coast also includes interesting landforms, natural rock arches, coves and sea stacks, among the most famous are Lulworth Cove and Durdle Door, formed by sea erosion. The Lulworth Crumple are layers of rock formed by the collision of the continents millions of years ago, the Alps also arose as the result of this collision. The cliffs along the coast are formed of sandstone, limestone, Jurassic clay and shale. Some of the most amazing and interesting locations of the Jurassic Coast are: Durdle Door, Lulworth Cove, the Lulworth Fossil Forest, Man O' War Cove, Portland Bill and Pulpit Rock on the Isle of Portland, the Cliffs at Bowleaze Cove, the Red cliffs of Sidmouth, Chesil Beach and the Devon Cliffs of Exmouth. The Dorset and East Devon Coast were declared a UNESCO World Heritage in 2001. The Dorset and East Devon Coast is the first natural UNESCO World Heritage Site in England.
www.werelderfgoedfotos.nl © Copyright World Heritage Photos classic car road trip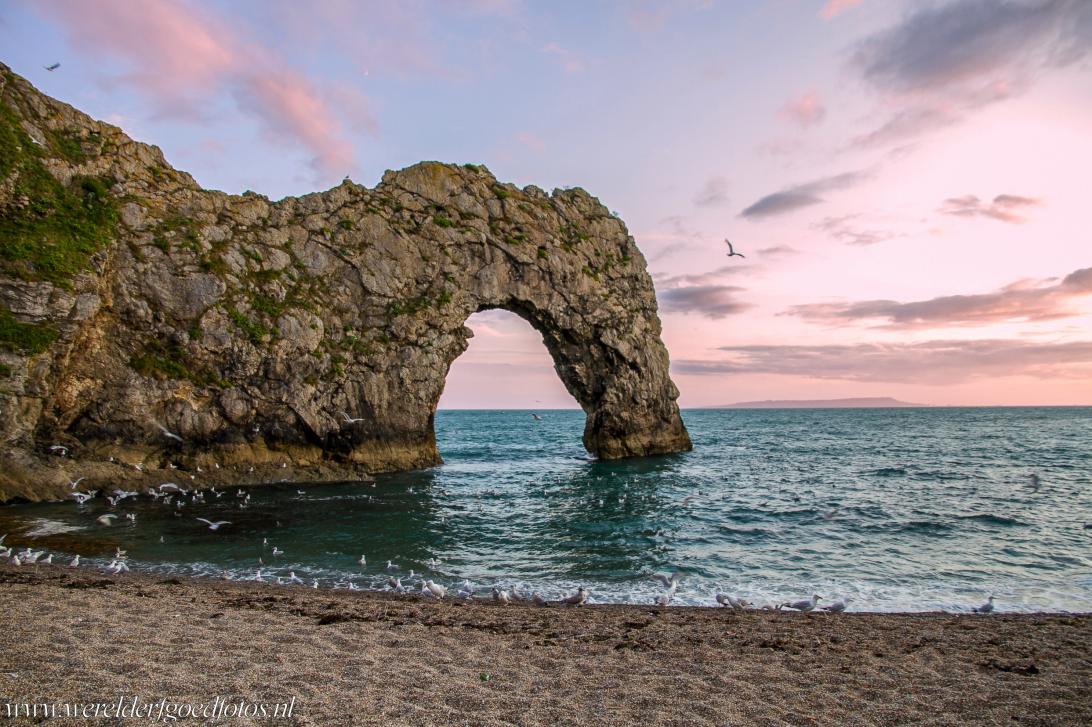 The Dorset and East Devon Coast: The iconic Durdle Door at nightfall. Durdle Door is a natural limestone arch, it was formed by wave erosion as the waves of the sea constantly undercut the cliff at its base, a slow and gradual process of millions of years. Durdle Door is situated close to the tiny village of West Lulworth.