Historic Centre of Évora: Evora is situated in the heart of the Alentejo region of Portugal, about 130 km east from Lisbon. The history of the town of Évora goes back to the Neolithic period, the surrounding landscape of Évora comprises a large number of megalithic monuments, the most important are the Almendres Cromlech and the Anta Grande do Zambujeiro. Évora was a thriving city in the Roman Times, the Temple of Diana is a reminder of this period. In the 15th century, Évora was the residence of the kings of Portugal and became the second city of the country. The University of Évora was founded by the Jesuits in the 16th century, it was the second university founded in Portugal, after the University of Coimbra. The Jesuits were expelled from Portugal in the 18th century and the University of Evora was closed in 1779, it was reopened nearly two hundred years later in 1973. Evora is still surrounded by its medieval fortified city walls. One of the most remarkable monuments of Évora is the Chapel of the Bones in the Igreja Real de São Francisco, one of the most visited monuments in Évora. Another impressive monument in Évora is the 16th century Agua de Prata Aqueduct. The Cathedral of Évora is a fine example of Gothic architecture, the design of the octagonal crossing tower resembles that of one of the towers of the Old Cathedral of Salamanca. It is common belief that, before the first expedition of the navigator Vasco da Gama to India in 1497, the flags of the fleet were blessed in the Cathedral of Évora. The Historic Centre of Évora was declared an UNESCO World Heritage in 1986,
www.werelderfgoedfotos.nl © Copyright World Heritage Photos classic car road trip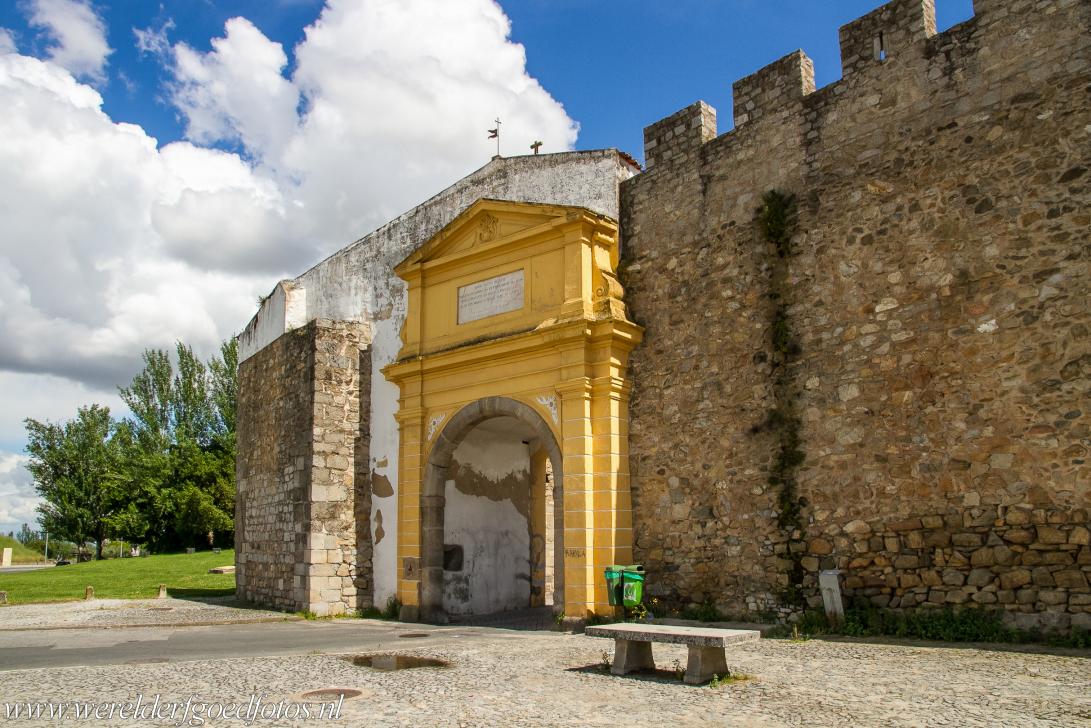 Historic Centre of Évora: The Porta de Avis, the Gate of Aviz, is one of the town gates of Évora. The gate was named after the House of Aviz, the second dynasty of kings of Portugal. Evora is situated in the heart of the Alentejo region, 130 km east of Lisbon. Évora is surrounded by cork oaks, vineyards and olive groves. The Historic Centre of Évora is an UNESCO World Heritage.