Droogmakerij de Beemster (Beemster Polder): The Beemster Polder is an exceptional example of reclaimed land in the Netherlands. The Beemster Polder was created in the period 1607-1612 by draining a lake, 47 windmills were used to drain the Beemster Polder. The newly gained land was divided into a geometrical pattern of squares by roads and ditches, so that the polder looks like a gigantic chess board. The Beemster lies about 3.5 meters below sea level, a landscape of fields, roads, canals, dikes and small villages. The Beemster is considered to be the oldest polder of the Netherlands, but the Dutch had already polders in the 15th century. Windmills played a vital role to keep the polders dry. Now, modern pumping stations keep the Dutch polders dry. Among the protected monuments in the Beemster Polder are churches, residential and farm buildings, industrial buildings, bridges and mills. The village of Middenbeemster is located in the centre of the polder. The Keyser Church at Middenbeemster (1623) is the oldest building in the Beemster Polder. It was built by the Dutch architect Hendrick de Keyser, who also designed the Westerkerk in Amsterdam. The Church of Middenbeemster has remained almost original. The Beemster is also known for the 'stolpboerderijen', characteristic cheese-cover farmhouses. Five fortresses of the Defence Line of Amsterdam are located in the Beemster Polder: Fort aan de Middenweg, Fort Benoorden Purmerend, Fort Jisperweg, Fort Nekkerweg en Fort Spijkerboor. Droogmakerij de Beemster (Beemster Polder) became a UNESCO World Heritage in 1999. World Heritage Art: Chess Board.
www.werelderfgoedfotos.nl © Copyright World Heritage Photos classic car road trip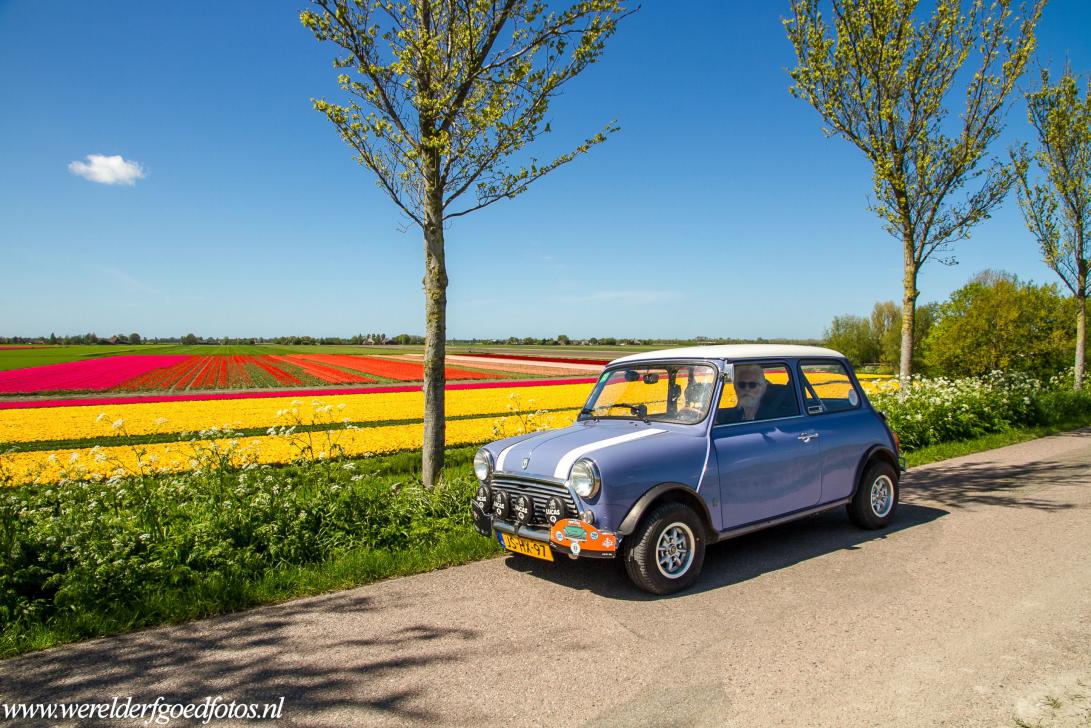 Spring in the Beemster Polder. A classic Mini in front of one of the flowering tulip fields of the Beemster Polder. For those who wish to visit the flowering tulip fields and blooming fruit trees in the Beemster, from mid-April until the beginning of May is the best period. The daffodil and hyacinth fields bloom already in early april. Droogmakerij de Beemster (Beemster Polder) was inscribed on the UNESCO World Heritage List in 1999.