Historic Centre of Urbino: Urbino is a small walled medieval hill town in Italy. During the Renaissance, Urbino rivaled Florence and Siena as a centre of art an culture. Urbino has preserved its Renaissance appearance. In the 15th century Urbino attracted some of the most outstanding artists of the Renaissance. The Renaissance culture developed under the rule of Duke Frederico da Montefeltro. The most important building in Urbino is the Palazzo Ducale (Doge's Palace), built for Duke Federico da Montefeltro between 1444-1482. Nowadays, the Doge's Palace is used as museum Galleria Nazionale delle Marche. The artist Raphael was born in Urbino in 1483. Raphael's birth house is a museum dedicated to the artist. Several oratories are scattered all over the Historic Centre of Urbino. The oratories are adorned with frescoes from the 14th, 15th and 16th centuries. The 14th century Oratory of St. John the Baptist is an important example of the International Gothic style, it is decorated with 15th century frescoes. Some other important Renaissance cities in Italy: Ferrara, Florence and Siena. The Historic Centre of Urbino was declared an UNESCO World Heritage in 1998.
www.werelderfgoedfotos.nl © Copyright World Heritage Photos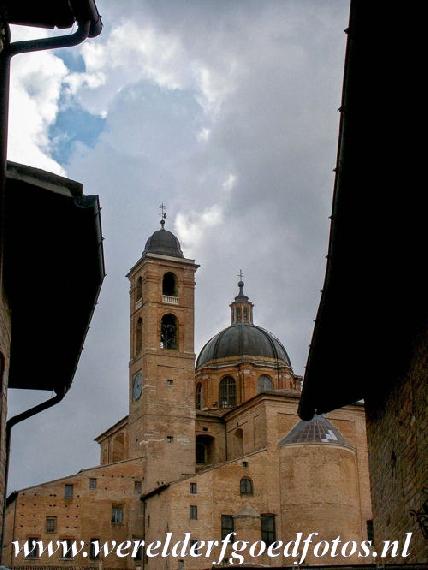 Historic Centre of Urbino: The dome of the Urbino Cathedral and its Campanile. The Urbino Cathedral is situated in the centre of the town. It was built in the Neoclassical style. The façade is adorned with five statues, among them the three theological virtues, Faith, Hope and Charity. The historic centre of Urbino is an UNESCO World Heritage.