The Champagne Hillsides, Houses and Cellars: The UNESCO World Heritage comprises the historic vineyards of Hautvillers, Aÿ and Mareuil-sur-Aÿ, Saint-Nicaise Hill in Reims, the Avenue de Champagne and Fort Chabroi in Epernay. The Champagne wine region is located in the northeast of France. Reims is the official capital of the Champagne region, but Epernay is internationally known as the 'Champagne Capital'. Epernay is surrounded by vineyards. The most prestigious and famous Champagne Houses can be found along the stately Avenue de Champagne in Epenay. Beneath the town of Epernay stretches a network of more than 120 km of tunnels, caves and cellars, used for the storage of the champagne bottles. Reims is probably best known for its Cathedral of Notre-Dame, but the town is also home to some of the most prestigious Champagne Houses. Over 250 km underground tunnels and cellars lie beneath Reims, used to store over 200 million champagne bottles. During the first World War, Reims was bombed for nearly four years by the German army, over 80 % of the city was destroyed. The inhabitants of Reims found shelter in the unnels. It was an underground city, with a school, a hospital, a church and even a theatre. The champagne hillsides with vineyards, production sites with the underground cellars, the sales and distribution centres demonstrate the entire process of the production of the champagne wine. The Champagne Hillsides, Houses and Cellars gained the status as an UNESCO World Heritage in 2015.
www.werelderfgoedfotos.nl © Copyright World Heritage Photos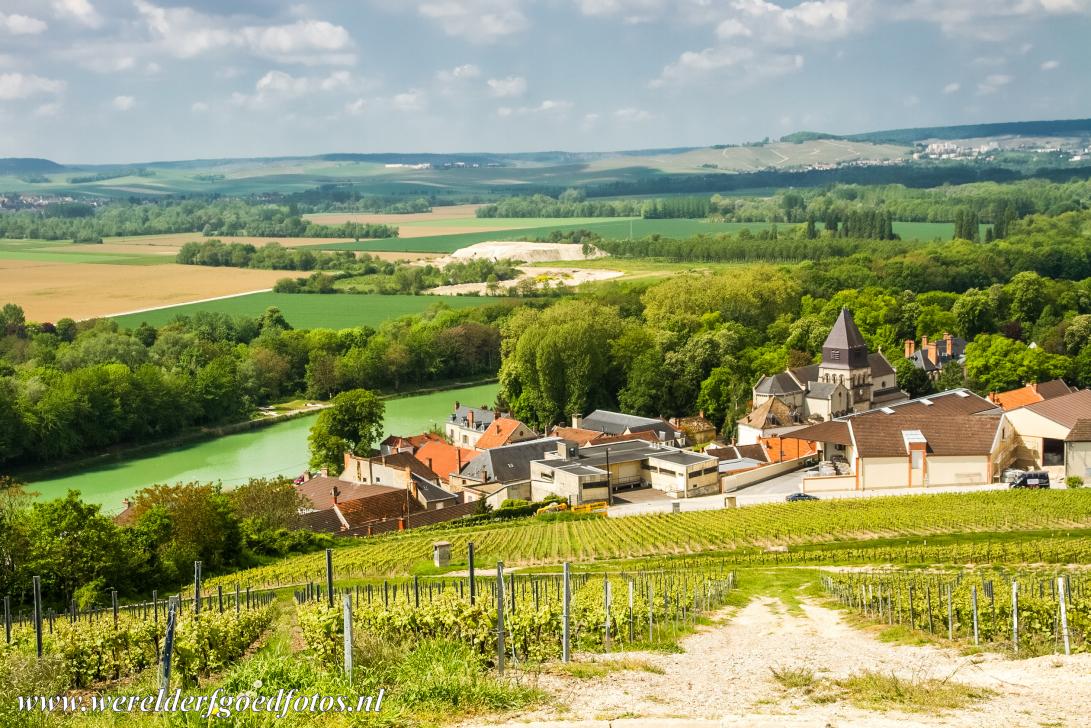 Champagne Hillsides, Houses and Cellars: The Village of Mareuil-sur-Aÿ viewed from the 180 metres high Mont du Gruguet, the hill is the highest point in the village. The Village of Mareuil-sur-Aÿ is surrounded by the vineyards of the champagne region. The vineyards of Mareuil-sur-Aÿ are classified as Premier Cru in the Champagne Vineyard Classification. The Champagne Hillsides, Houses and Cellars were declared an UNESCO World Heritage.