Historic Centre of Warsaw: After WWII 85% of Warsaw was destroyed: 25% during the Warsaw Ghetto Uprising in 1943, 25% during the Warsaw Uprising in 1944 and after the Warsaw Uprising 35% was destroyed by nazi-troops. The historic centre together with the Royal Castle, houses and churches were destroyed. Warsaw, the capital of Poland, was rebuilt after WWII. The Historic Centre of Warsaw was reconstructed and restored with the preservation of the original fragments of the historic buildings. Some monuments in the Historic Centre of Warsaw: The statue of the Mermaid of Warsaw in the Market Square (Rynek Starego Miasta), the Mermaid is the symbol of Warsaw. The Sigismund Column is a famous and one of the oldest monuments of Warsaw, the Sigismund Column was erected in 1644 in honour of King Sigismund III Vasa, he moved the capital of Poland from Kraków to Warsaw. The Barbican represents the defensive walls and towers that once defended Warsaw, the Warsaw Barbican is the second largest in Poland, the largest is the Barbican of Kraków. There are numerous churches in Warsaw, one of the most notable churches is the Holy Cross Church, the heart of the Polish composer Chopin is interred in a column of the Baroque Church of the Holy Cross. The Masterpieces of Frédéric Chopin, the Archive of Warsaw Reconstruction Office, kept in the State Archives of the Capital City of Warsaw, and the Warsaw Ghetto Archives (Emanuel Ringelblum Archives), kept in the Jewish Historical Research Institute in Warsaw, were inscribed on the UNESCO Memory of the World Register. The Historic Centre of Warsaw gained status as an UNESCO World Heritage in 1980.
www.werelderfgoedfotos.nl © Copyright World Heritage Photos classic car road trip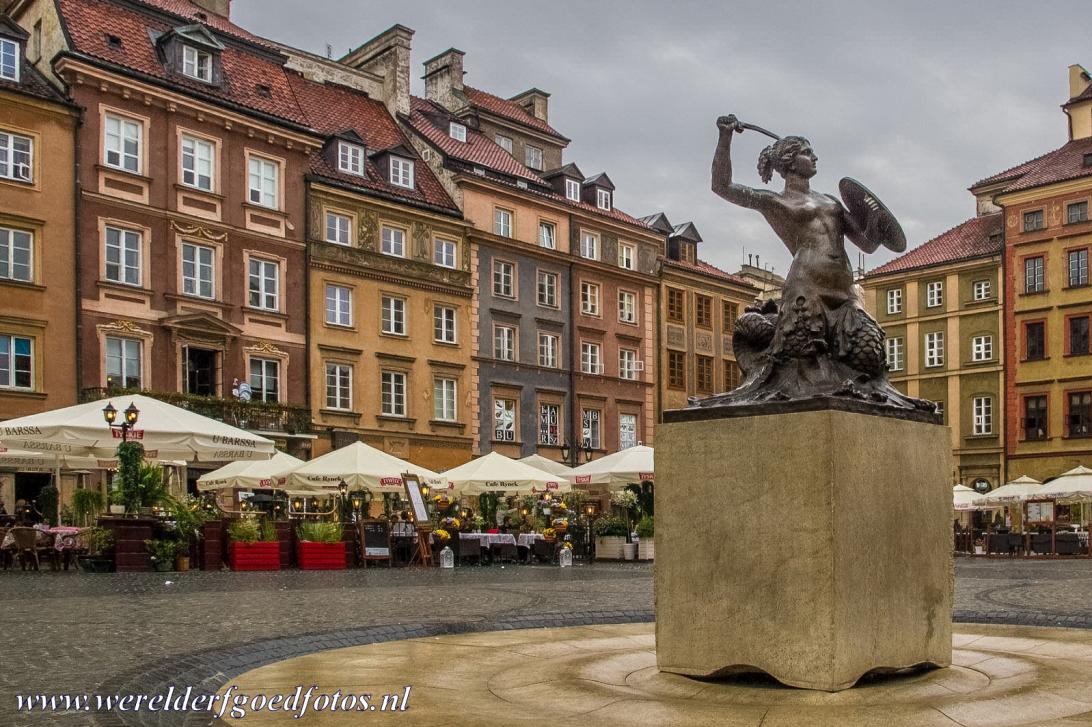 Historic Centre of Warsaw: The Mermaid of Warsaw. (Polish: Syrenka Warszawska).
The statue of the Mermaid of Warsaw is located in the Rynek Starego Miasta, the Market
Square, in the historic centre of the Old Town of Warsaw. The mermaid is the symbol of
Warsaw. This statue of the Mermaid is a copy. Due to vandalism, the original statue has
been removed to the Historical Museum of Warsaw.