Historic Centre of Vienna: Vienna developed from Celtic and Roman settlements into a Medieval and Baroque city. It became the capital of the Austro-Hungarian Empire and after WWI, Vienna became the capital of Austria. The historic centre of Vienna is known for its Baroque castles and gardens, the 19th century Ringstrasse is lined with monuments, parks and grand buildings from the 'Gründerzeit', the great economic upswing in the middle of the 19th century. Vienna is well-known as the leading European Music City, the city has been a leading music centre in Europe since the 16th century. More renowned composers have lived and worked in Vienna than in any other city in the world. The Austrian National Library is situated in the Hofburg Palace, the huge collection include the notable items Vienna Dioscurides, the Tabula Peutingeriana and the unique Atlas Blaeu-van der Hem, these three works are inscribed on the UNESCO Memory of the World Register. Vienna is also known for the legendary Empress Elisabeth of Austria, known ad 'Sisi' (Sissi). Another UNESCO World Heritage in Vienna is Schönbrunn Palace, located in the outskirts of Vienna. The Historic Centre of Vienna became a UNESCO World Heritage in 2001.
www.werelderfgoedfotos.nl © Copyright World Heritage Photos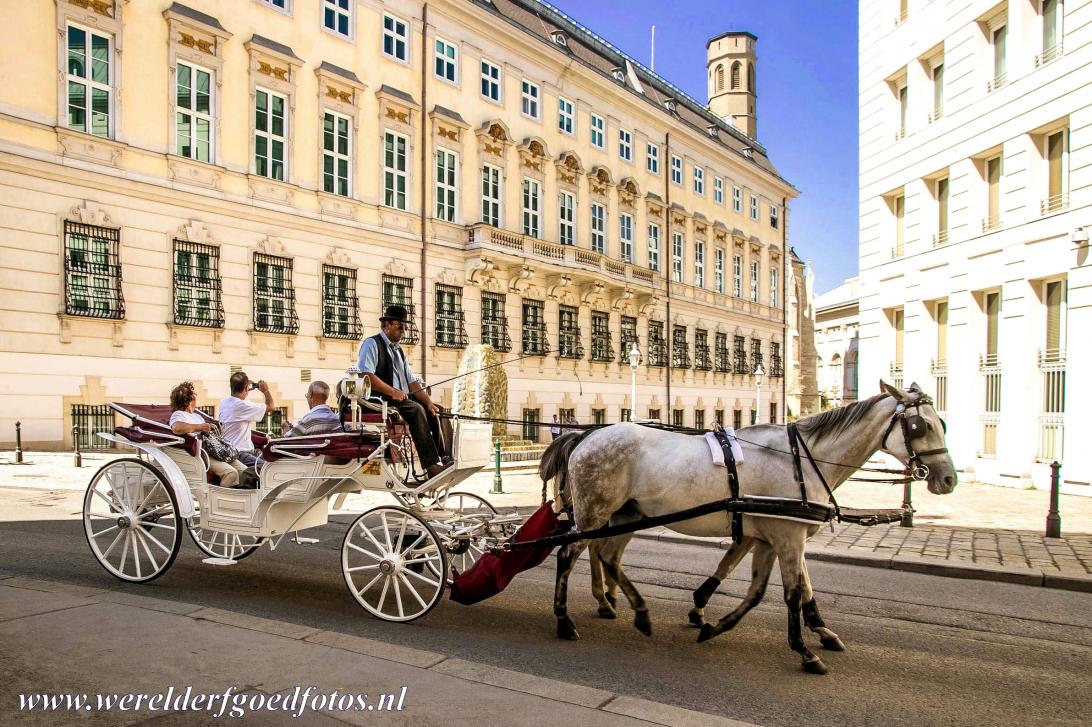 A horse-drawn carriage in front of the Hofburg in the historic centre of Vienna. The Hofburg is a former Imperial Palace, it was the winter residence of the House of Austria, the Habsburgs. The palace was built in the 13th century in the centre of Vienna, it was expanded over the centuries, the Hofburg includes buildings such as the Amalienburg, the Burgkapelle and the Spanish Riding School. The Historic Centre of Vienna gained the status as a UNESCO World Heritage 2001.