City of Graz - Historic Centre and Schloss Eggenberg: Graz is situated on the banks of the river Mur in the southeastern part of Austria. Graz is Austria's second largest city after Vienna. Graz is situated at the crossroads between Central Europe, Italy and the Balkan States. The historic centre of the city of Graz is famous for its harmonious blend of several architectural styles. Since the Middle Ages each century is represented by typical buildings. The historic centre of Graz is one of the best preserved city centres in Central Europe. Schloss Eggenberg lies on the western edge of the city of Graz. Schloss Eggenberg was built in the 17th century by Hans Ulrich von Eggenberg as a symbol of his status in the Imperial Court. The city of Graz is situated along the Semmering Railway, also an UNESCO World Heritage. The City of Graz - Historic Centre gained status as a UNESCO World Heritage in 1999. The UNESCO World Heritage site was extended by Schloss Eggenberg in 2010.
www.werelderfgoedfotos.nl © Copyright World Heritage Photos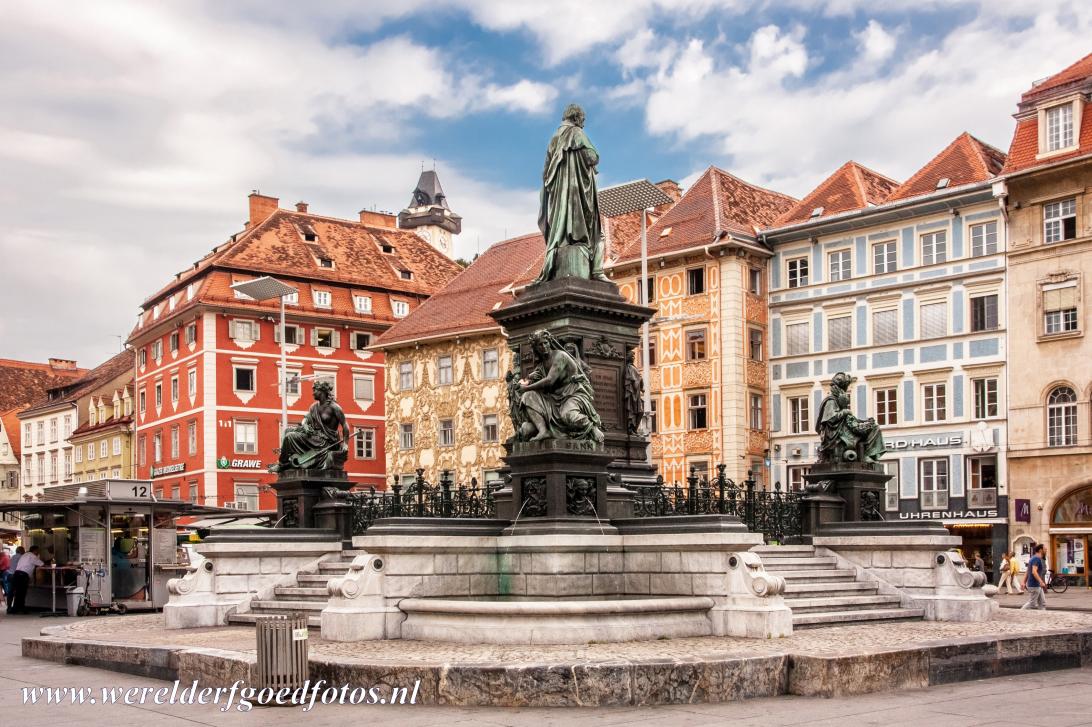 City of Graz - Historic Centre: The Hauptplatz is the market square of Graz, it was created in the Middle Ages. The monumental Erzherzog Johann Fountain has adorned the market square since 1878. In the Middle Ages, Graz was an important centre of trade. Traders displayed their wares below wooden shopping arcades. The two Luegg Houses have now masonry arcades, the Luegg House in the corner of the market square is adorned with a 17th century stucco façade.