The Avebury Stone Circles and Henge are part of the UNESCO World Heritage: Stonehenge, Avebury and Associated Sites. The Avebury Stone Circles and Henge are located around the village of Avebury in Wiltshire, Great Britain. The Avebury Stone Circles and Henge are about 5000 years old. Avebury is one of the largest megalithic sites in Europe. Avebury consists of two inner stone circles and a larger outer stone circle, surrounded by a ditch and a bank. The Outer Circle of Avebury is the largest known stone circle in the world, even larger than Stonehenge. Only 27 stones of the Outer Circle of Avebury have survived. The Swindon Stone is the largest stone of the Avebury Stone Circles. All the stones of Avebury are natural blocks of sarsen stone. The West Kennet Avenue connects the Avebury Stone Circles and Henge and the Sanctuary on Overton Hill. The village of Avebury is surrounded by the Avebury Stone Circles and Henge. Stonehenge, Avebury and Associated Sites, including Silbury Hill and the West Kennet Avenue, were declared an UNESCO World Heritage in 1986. World Heritage Art: Stone Circle
www.werelderfgoedfotos.nl © Copyright World Heritage Photos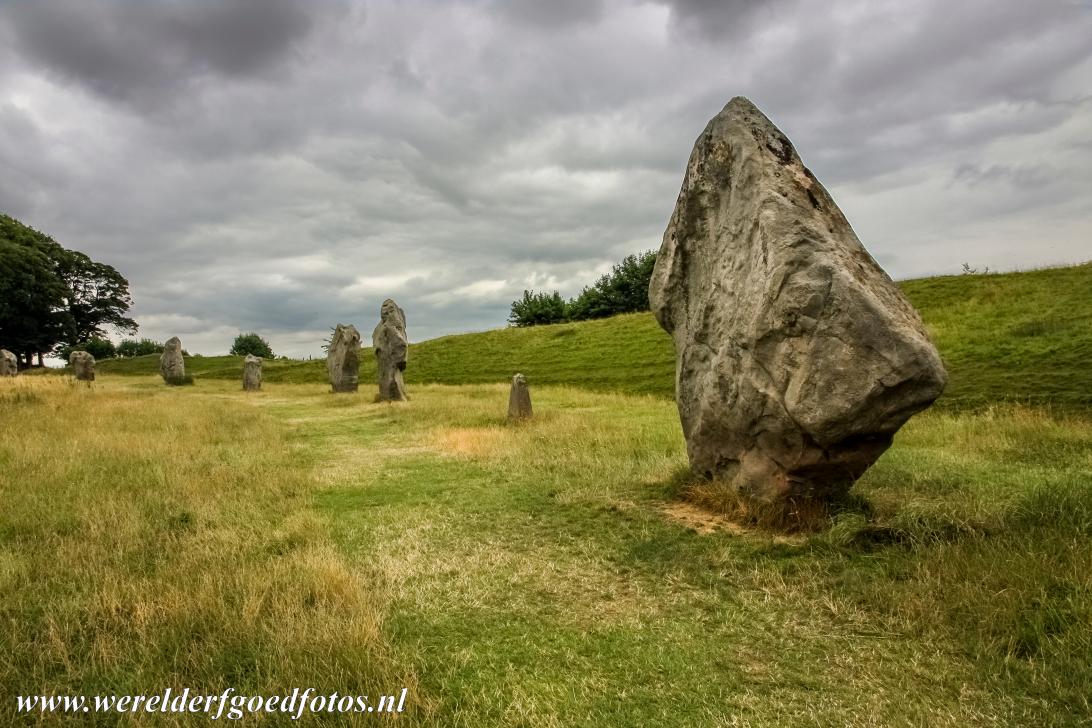 Avebury Stone Circles and Henge: The earthworks of Avebury consists of a circular ditch,
the soil and chalk rubble dug out of the ditch were piled up to make the bank on its outer
side. Inside the bank and ditch are a large outer stone circle and two smaller inner stone
circles. Many of the stones of Avebury are very large, the largest weighing over 40 tons.