Heart of Neolithic Orkney consists of a group of Neolithic monuments, situated on Mainland Orkney. The UNESCO World Heritage Heart of Neolithic Orkney includes: The Standing Stones of Stenness, the Ring of Brodgar, Maeshowe and Skara Brae. The Standing Stones of Stenness date from at least 3000 BC. Only 4 stones of the Standing Stones of Stenness have survived. The Ring of Brodgar was erected between 2500 and 2000 BC. Only 36 stones of the Ring of Brodgar have survived. Maeshowe is a passage grave and dates from around 2800 BC, it is one of the finest chambered tombs in north-west Europe. The central chamber of Maeshowe is illuminated by the winter solstice, similar to Newgrange. Maeshowe was built earlier than Stonehenge and the pyramids of Egypt. The people who built Maeshowe lived in settlements like Skara Brae. Skara Brae was built somewhere between 3100 and 2500 BC. The Neolithic settlement of Skara Brae was inhabited long before the Egyptian pyramids were built and many centuries before the construction began at Stonehenge. Skara Brae was continuously inhabited for some 600 years. Skara Brae is one of the first known farming villages in Great-Britain and the best preserved Neolithic village in the northern part of Europe. Heart of Neolithic Orkney gained the status as a UNESCO World Heritage in 1999. World Heritage Art: Standing Stones of Stenness.
www.werelderfgoedfotos.nl © Copyright World Heritage Photos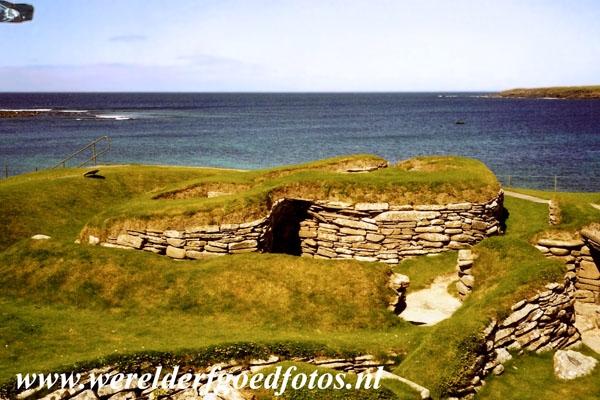 The Heart of Neolithic Orkney: The Neolithic settlement of Skara Brae is situated on the Bay of Skaill on the west coast of Mainland Orkney, the largest of the Orkney Islands. Skara Brae is the best preserved and most complete Neolithic village in Northern Europe. The Heart of Neolithic Orkney was inscribed on the UNESCO World Heritage List in 1999.